Harvesting
Bowman Contracting aims to maximise yeild and therefore your returns, while maintaining a professional and safety focused harvesting operation. With 10 years experience in logging along with over 14 years in arboriculture we not only have the skills and knowledge we also have the passion to go the extra mile, getting your job done right first time.
We are an experienced ground based harvesting operation who takes pride in not only the job but also the equipment we use. We have a well trained team who hold the relevant qualifications and are consistently working on our skill set to obtain further, and maintaining our current skill.

At Bowman Contracting we understand the investment the landowner has made 20-30 years ago and the importance of getting the best return on your long term investment. We work with you to get the most out of your woodlot, not just from your trees but also from infrastructure, working with neighbours, consents and compliance and post harvest works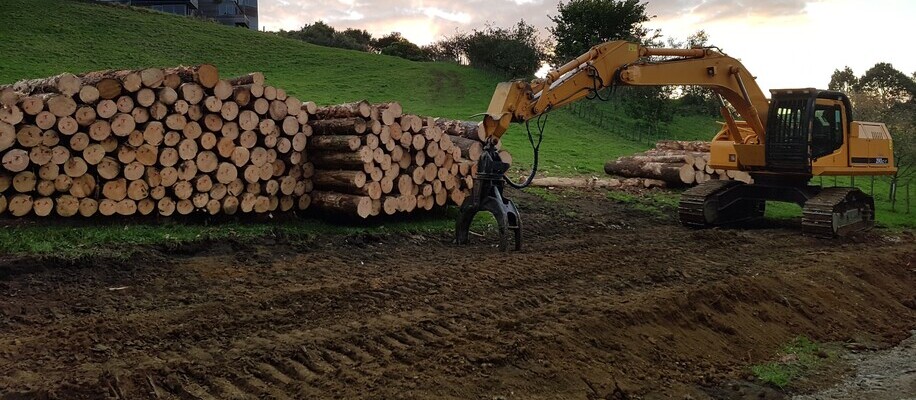 The Market
Maximising yields not only takes great contractors who know woodlots, it also requires access to the best domestic and international markets. The ability to understand and leverage these markets is key to ensure you get the best dollar for every tree. Bowman Contracting has the relationships and experience to do this for our customers.
The market is not only those who purchase the logs, it is also how we get your wood to the markets. We work with a number of respected forestry transport companies to get the best value and consistency.

Bowman Contracting works for our customer, obtaining the best return that will suit your individual circumstances. By taking care of both the marketing and the harvesting we can deal directly and therefore increase the return on your investment.

Covid-19 has made for a more challenging environment however, working with both our international and domestic buyers, we are able to leverage all options available to obtain the best outcome for our partners. Now is a great time to give us a call on 021 1800 227 to discuss your woodlot and cashing in on your investment